So I woke up this afternoon after coming off of nights and went out in the shop to take a look at my differential parts. Today I am the smartest man alive! It was about 34 degrees outside with a rain/snow mix coming down. So I turned up the heat in the shop to about 55 and went to sleep. Man it sure makes a difference, anyway I got all the parts out of the parts washer and gave them a good scrubbing with a parts brush and a wire brush. Here's everything nice & clean: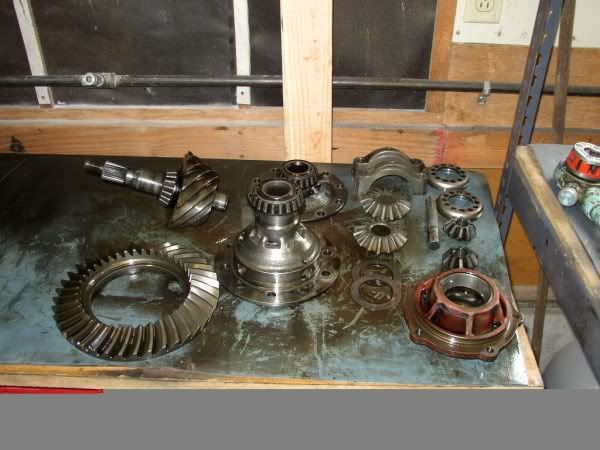 Upon inspection, all the parts should be just fine for reuse. I'm replacing all the bearings, so I used my bearing separator and new shop press to remove the pinion bearing. Then I knocked out the pinion bearing races with a punch and a BFH. The only part I'm having problems with is getting the 2 carrier bearings pulled off the carrier halves. This requires a special puller, so I'm going to see my buddy Super Bill at Fleet Service tomorrow to get those off. I'll then get my rebuild kit ordered and we'll see if it goes back together.
4x4 swap meet this weekend, never know what we'll find there. Looking for an AMC 360 for my Javelin, and of course Scout parts are always good.