Good times in the old shop today. Took the front axle back off to install the spring saddles. I also left the spring pack center bolts too long, so I trimmed them down with my pneumatic cutoff tool. Installed my 4 degree caster correction shims and tightened everything up. Looks pretty good overall, I have to wipe down a lot of the parts since I got Anti-Seize all over everything. I should probably touch up some of the paint as well: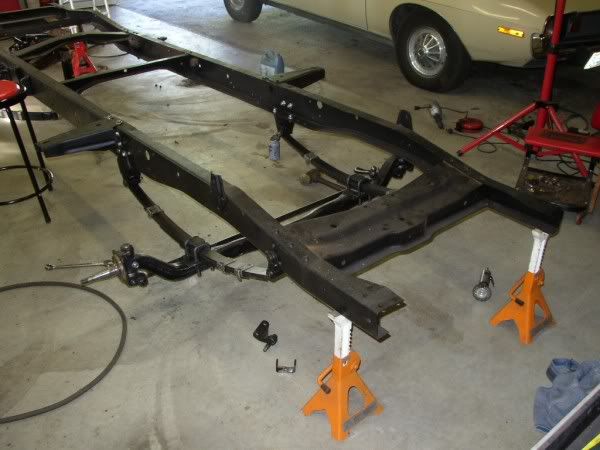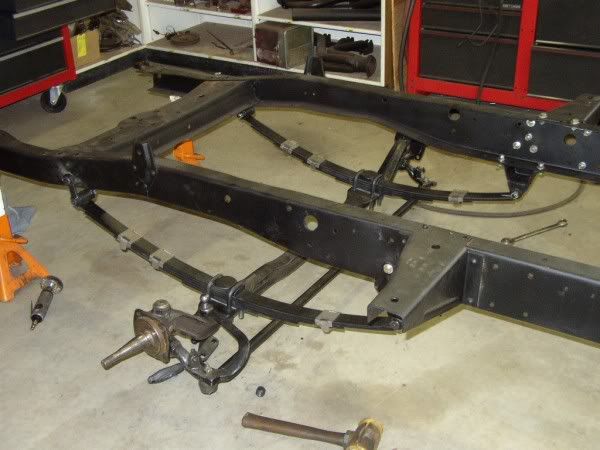 Still trying to figure out the orientation of the shock mounts, I think I have it figured out but I'll check the service manual one more time.
Sooo now I'll turn my attention to the rear springs. I ground off the rivets for the spring clamps and removed them. I put new spring clamps from Mid Fifty on and tightened everything up. Installed new spring eye bushings and my Y-hangers from Dennis Carpenter arrived today. I need to borrow another reamer from work to ream the bushings to fit all the pins then we can put the rear springs on.
The shop is a complete mess right now, parts and tools everywhere. Tomorrow I'll get out there and straighten it up. I'm running out of parts at the moment, maybe that's a good sign. I've got a few parts to take to get sandblasted and I need to order some of the "big money" parts as well. The disc brake kit is $400 and the Toyota steering kit is $250, oh well it's only money right? Note to all wanna be restorers out there: if you can't handle sticker shock look for another hobby.
I've got to get the radiator saddle mounted so we can get the engine & transmission mounts mocked up & installed. This motor has never been fired and was assembled 10 years ago. Still debating on whether or not I should tear it down before installing it. Still got to find someone to check out that 9" rear end. So while we're doing better, we're still in it for the long haul.
More updates coming soon, I'm officially back in "the zone!"
Ron