Well,
I've almost made thru the dark days at work. So in celebration of this glorious event, I ordered some parts! We've got some caster shims, some reproduction rear spring Y-hangers, and a rear spring pin & bushing kit ordered. Mid-Fifty can usually get stuff to me in about a week since they're only in Arizona. I've also ordered a power brake booster/master cylinder setup. The stock location for the old manual MC was under the cab on the driver's side frame rail. With this setup it will be put on the firewall. It's also complete with a hanging pedal. Here's a picture: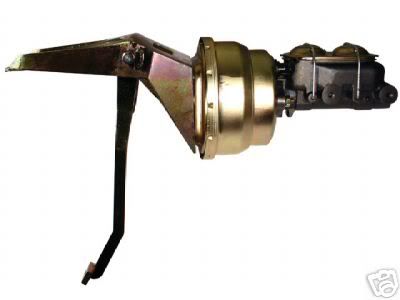 It also reinforces the the dash, firewall and steering column having that bracket under dash. Don't really need it right away, but I'm getting a real good price on it. I'll also be adding a combination proportioning/metering valve to the setup to supply proper pressure to the disc front and the drum rears.
So I'll be waiting for the big brown truck to deliver some happiness, in the meantime I've got a few things to keep me busy. All my powersteering parts need a good sandblasting and repainting. And I still need to get some big parts down to the sandblaster man. Summer is nearly over and I am wayyyy behind where I thought I'd be. We'll get caught up, the good news is I have a shop and work tends to slow down a little bit this time of year. Don't be afraid to stop by the shop if you ever get out my way. I hope to actually be in there very soon and all are welcome.
Ron