Hi,
Welcome to my blog. Over the coming weeks and months you will be able to view my progress as I finally start my "rodification" of my 1955 Ford F100 Pickup. Pictures will be on the way shortly. This 1st post will be kind of long as I get everyone caught up on where we are and where we're headed. However, before we move forward, we have to step back in time all the way to the 1980's........(Dream Sequence)
In the early 80's my father brought home another of his automotive "treasures", a 53-55 Ford F100. I really can't remember which year exactly, though I know it wasn't a 56 due to the different doors. I remember him and his friend "Hot Lips" rebuilding that old Y-block 312 like it was yesterday. This was no show truck, it was built for truck purposes dump runs and the like. Dad built a set of stake bedsides for it so we could really load it up. I remember the truck dying on us on a dump trip and having to call Mom to bring the gas can. Good times!
In 1986 Dad was killed in a work accident and Mom had to sell the truck to help make ends meet. As much as I would have loved to have kept that truck being as I had just turned 16, I understood that it was the right thing to do at the time. Besides I knew I'd have another one some day....
Fast forward to 1994, I was in the Navy stationed in Alameda, CA on the USS Arkansas (CGN-41). I found a 1955 Ford F100 that didn't run for $800. It had been modified with homemade Ford FE engine mounts (352, 390, 428, etc.). Looking back in retrospect, this was NOT the truck to start with, but I was young and not as wise about cars as I claim to be now. Anyway, I bought my "treasure" and had it towed to the house we were renting. Went to DMV to transfer title and was told that will be $400. Zoiks!!! Apparently in the "great" state of CA when you buy a car that hasn't been registered in several years you are liable for all the back registration fees. So I told the wife, she was NOT happy and we moved on from there. Didn't really do anything with the truck after that until...
Late 1994, we recieved change of homeport orders to Bremerton, WA. Conned a buddy (thanks Mark Sheets whereever you are) to towing it up on a trailer for me. Rented a house in Belfair, WA with a nice big shop/garage for indoor storage. I bought a 390 Ford out of a '63 T-Bird to rebuild and found a Ford factory tri-power setup in Hemmings Motor News for $400 back in New York. I had all the engine work done at Westbay Auto in Port Orchard, and I assembled the engine myself, something I had never accomplished before. Progress is good, right?
Well, sure it is, IF you keep going. However, Charlene & I bought our 1st house in Bremerton in 1996 and cash, spare time, and garage space/equipment were a little tight. So the engine sat on the stand and the truck sat for a few years. Some small victories accomplished were obtaining a Ford 9" rear (3.00:1 gear ratio) and installing it (Thanks to Martin Hohnhorst wherever you are). Bought a C-6 transmission from a newer F-100 and had it rebuilt for me. Still have a tranny rebuilding phobia which I may get over SOME day. That was about it for a few years...
In November of 2000 I had grown tired of the Navy and all it had to offer, so we parted company after 12 years. I took a job in Centralia, WA as an operator at a coal fired steam plant. In 2001, we sold our house in Bremerton and bought a house in Centralia with a nice big (32x34 shop). this is the shop I had dreamed of for years and luckily it came with a very nice house that suited both Charlene & I perfectly. I have installed a 80 gallon 2 stage compressor and plumbed the shop for air (thanks to my good friend Kent Baird) added a decent sized sandblast cabinet and my most recent addition, a Hobart Handler 180 MIG welder. So now I have the equipment, the space, and the money and the time to really get going on this truck, right?
Yes I do! I am finally serious about getting going on this project. I'm more excited now then the day I brought it home over 10 years ago. I've given into the fear of the unknown for too long. It's okay to make mistakes along the way, it's the only way I'll learn. I'm all right with the fact this will never be a 100 point show truck, it's okay. I want a nice driver that I know I will be proud of regardless how it turns out.
At the Portland Swap Meet this year (Disneyland for old car fans in the Pacific Northwest), I bought a tubular FE engine mount to replace the not so great homemade ones currently residing in the engine compartment. I also ordered a trans mount from Mid-Fifty F-100 parts to replace another "quality" booty-fab mount.
www.midififty.com
is an invaluable resource for anyone working on a early f-100. I pulled the entire front clip off the truck to facilitate removing the old mounts and installing the new one. Came off in one piece fairly easily although the pneumatic cutoff wheel got a workout, some of the 50 year old bolts were a little stubborn. My new Sawzall made pretty quick work of the old motor mounts. All is well, right?
Well, not really. I was wire wheeling the frame to clean it up and on the passenger side framerail forward of the firewall is where the VIN number was stamped on these trucks. So I got it all cleaned up to where you could read it. For some unknown reason I got my old title out and compared the two. NOT EVEN CLOSE!!! I had a title for A '55 Ford Pickup, but not MY 55 Ford pickup. CRAP!! Time for a little brainstorming. Found out about Broadway Title,
www.broadwaytitle.com
. The jist of their operation is this: Before 1975, titles weren't issued in the state of Alabama. So basically I would "sell" my truck to them in Alabama, and they would "sell" it back to me, so I would have a Bill of Sale from Alabama which I could then get my truck registered in WA with the correct VIN number. Total cost: about $190 for Broadway Titles services ($50 surcharge for WA) and probably another $75-$100 for the DMV to title transfer and sales tax, etc. I can swing that, problem solved, RIGHT?
Not so fast. So continuing with the frame stripping, I pulled the bed off the frame and found that the last 6" of the frame is effectively GONE. Looks like it was rusted out previously and "repaired" with an incredibly crude weld job and a homemade angle iron crossmember. Basically everything aft of the rear spring hanger needs to be cut off and replaced.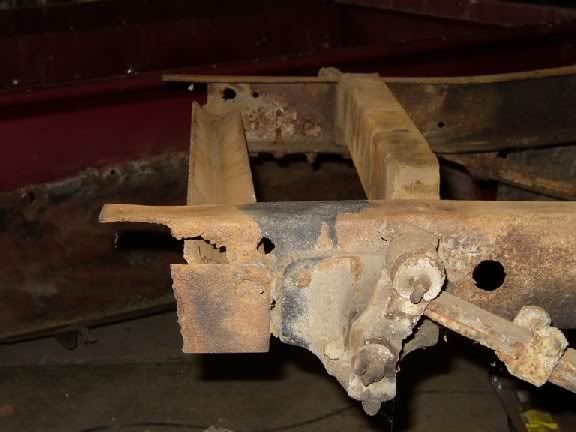 Not a big deal, although I am a newbie welder there are lots of mechanics out here at work who weld for a living who would probably do the repair for me or supervise me completing it. It's amazing what a case of beer is worth to some people. I even have access to getting the necessary C-channel steel rolled to my specifications, so this should be a fairly easy fix.
So the last thing to come off the frame was the cab. Overall it's in pretty good shape, but will require cab corner repair. Luckily all the patch panels are readily available. Conned the "fellas" at work to come over after our last night shift. 4 of us would lift the cab while 2 guys will roll the frame out from underneath. Worked like a charm! Set the cab on pallets and rolled the frame out into my driveway. Big thanks to Chris Dupont, Paul Hoebing, Joe Lackey, Jeremy Munsell, and Dave Nugent for their cab removal services.
Back to my frame dilemma: At a local swap meet I ran into a guy that had a '54 project truck for sale. Said he was looking for $800, I took his number and went about my business. I called him a few days later to get a look at the truck and left a message on his machine. Hadn't heard back from him in over a week so I figured it sold. Finally got a call from him, he was on vacation. Went to look at the truck, definitely a project. Nasty cab and doors, but the strong selling points to me were solid frame WITH TITLE and a real decent bed & tailgate. I agonized for a few days, then decided that was worth about $500 to me. The downside of this truck was the extreme amount of junk I was going to have to get rid of that I didn't need or want. 2 complete 223 CU IN 6 cylinders in the bed. 1 223 still mounted to the frame. A moldy steering column in the bed plus all the less than stellar sheet metal. I have no interest in any of this stuff and don't really want to take the time to strip this other cab and scrap all the other stuff. Anyway, I call the guy up and offer him $500 for the truck. Finally, I get a break! He says for that price he'd like to keep the cab and the extra engines, etc. and he'll pull the cab off. Dude, you're breaking my heart, but I guess I "reluctantly" accept your offer! He's got to talk to his wife about it, but I'm guessing it's gonna be a go. I'll let you all know how it goes.
So now you are all up to date on the last 10 years of my trucks life. Pretty interesting huh? Where do we go from here? What does the future hold?
--Once I get my "new" frame, I'm sending it out to get sandblasted and then I'll coat it with ZeroRust to ensure it lasts a good long time.
--Send the cab to get blasted and epoxy primer then start rust repair.
--Find a decent looking used tilt steering column or buy an aftermarket one, Flaming River or Ididit.
--Buy a disc brake conversion kit for my front axle. Probably wait until Portland Swap Meet in April.
--Start rebuilding my straight axle suspension and swap my 9" from old frame to new frame.
Expect lots of pictures along the way as well. I will keep this thing updated as much as possible. Send questions and comments and words of encouragement to me, it would be appreciated.